tcpfilms » arts » cdc » christ lag in todesbanden
Christ lag in Todesbanden (2016)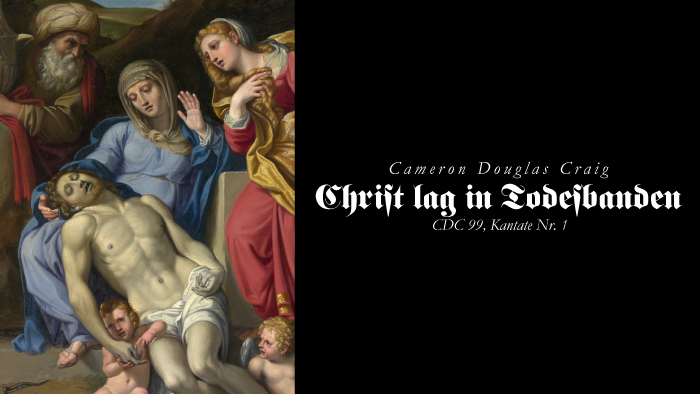 Christ lag in Todesbanden, Opus 99, Kantate No. 1
Cameron Douglas Craig
Copyright © 2016 by Cameron Douglas Craig.
All Rights Reserved.
The Work
English Text

Original German Text

Symphony

Sinfonia

Verse 1
Christ Jesus lay in death's strong bands,
For our offenses given;
But now at God's right hand He stands,
And brings us life from Heaven.
Wherefore let us joyful be,
And sing to God right thankfully
Loud songs of Alleluia!
Alleluia!




Versus 1
Christ lag in Todesbanden
Für unsre Sünd gegeben,
Er ist wieder erstanden
Und hat uns bracht das Leben;
Des wir sollen fröhlich sein,
Gott loben und ihm dankbar sein
Und singen halleluja,
Halleluja!




Verse 2
No son of man could conquer Death,
Such mischief sin had wrought us,
For innocence dwelt not on earth,
And therefore Death had brought us
Into thralldom from of old
And ever grew more strong and bold
And kept us in his bondage.
Alleluia!




Versus 2
Den Tod niemand zwingen kunnt
Bei allen Menschenkindern,
Das macht' alles unsre Sünd,
Kein Unschuld war zu finden.
Davon kam der Tod so bald
Und nahm über uns Gewalt,
Hielt uns in seinem Reich gefangen.
Halleluja!




Verse 3
But Jesus Christ, God's only Son,
To our low state descended,
The cause of Death He has undone,
His power forever ended,
Ruined all his right and claim
And left him nothing but the name,
His sting is lost forever.
Alleluia!




Versus 3
Jesus Christus, Gottes Sohn,
An unser Statt ist kommen
Und hat die Sünde weggetan,
Damit dem Tod genommen
All sein Recht und sein Gewalt,
Da bleibet nichts denn Tods Gestalt,
Den Stach'l hat er verloren.
Halleluja!




Verse 4
It was a strange and dreadful strife
When life and death contended;
The victory remained with life;
The reign of death was ended.
Stripped of power, no more it reigns,
An empty form alone remains
Death's sting is lost forever!
Alleluia!




Versus 4
Es war ein wunderlicher Krieg,
Da Tod und Leben rungen,
Das Leben behielt den Sieg,
Es hat den Tod verschlungen.
Die Schrift hat verkündiget das,
Wie ein Tod den andern fraß,
Ein Spott aus dem Tod ist worden.
Halleluja!




Verse 5
Here the true Paschal Lamb we see,
Whom God so freely gave us;
He died on the accursed tree—
So strong His love!—to save us.
See, His blood doth mark our door;
Faith points to it, Death passes over,
And Satan cannot harm us.
Alleluia!




Versus 5
Hier ist das rechte Osterlamm,
Davon Gott hat geboten,
Das ist hoch an des Kreuzes Stamm
In heißer Lieb gebraten,
Das Blut zeichnet unser Tür,
Das hält der Glaub dem Tode für,
Der Würger kann uns nicht mehr schaden.
Halleluja!




Verse 6
So let us keep the festival
Where to the Lord invites us;
Christ is Himself the joy of all,
The Sun that warms and lights us.
By His grace He doth impart
Eternal sunshine to the heart;
The night of sin is ended!
Alleluia!




Versus 6
So feiern wir das hohe Fest
Mit Herzensfreud und Wonne,
Das uns der Herre scheinen lässt,
Er ist selber die Sonne,
Der durch seiner Gnade Glanz
Erleuchtet unsre Herzen ganz,
Der Sünden Nacht ist verschwunden.
Halleluja!




Verse 7
Then let us feast this Easter day
On the true Bread of Heaven;
The Word of grace hath purged away
The old and wicked leaven.
Christ alone our souls will feed;
He is our Meat and Drink indeed;
Faith lives upon no other!
Alleluia!




Versus 7
Wir essen und leben wohl
In rechten Osterfladen,
Der alte Sauerteig nicht soll
Sein bei dem Wort der Gnaden,
Christus will die Koste sein
Und speisen die Seel allein,
Der Glaub will keins andern leben.
Halleluja!
Translation by Richard Massie, "Martin Luther's Spiritual Songs," 1854.

Program Notes
Coming Soon!