tempestas et caelum productions » films » expedition taiwan (2015)
Expedition Taiwan


The Expedition's Creation
Cameron Douglas Craig, geographer and documentarian
April 16, 2015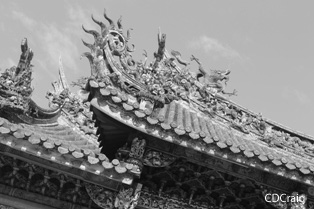 As I was sitting in my seat on a long flight returning to the United States after visiting my best friend in Taiwan this past winter break, a moment of "ah-ha" struck me like lightning.  "My passion of travel can be given to students who have never seen, first-hand, a distant land drastically different from their own."  The ultimate desire of mine, as a geographer, is to witness the initial facial reaction of students seeing, for the very first time, a brand new landscape; just like the students who participated in Expedition Endurance.  For me, it is all about the student's 'first time!'  This summer, I am taking five young team members to see Taiwan.
My very close Taiwanese friend, Pei-Hua Huang, who lives in Taipei and works at Academia Sinica, an international scientific community, and myself developed the two-week experience for my students.  Together we planned to highlight the culture of Taiwan through direct contact of its people. The experience for the expedition members is being personally funded by me so that they can understand the cultural differences of our world.
Background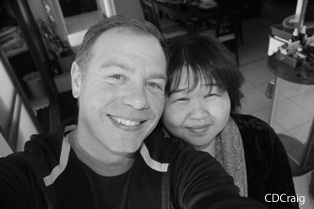 My friend and I have visited each other several times over the nearly two decades.  Each of the three times I have visited her in Taiwan, the experience has been exceptional because I have had direct contact with her family and the sights, smells, and sounds of her culture.  Furthermore, Ms. Huang, as I indicated, works for Academia Sinica as the conference specialist responsible for organizing all their conferences across the world.  Therefore, her specialty helps in developing the exceptional cultural experience as she has for many conference attendees from many countries.  My knowledge of the culture and the landscape will provide the expedition members with a bridge during the initial cultural shock and educational support throughout the expedition.
Highlights of the Expedition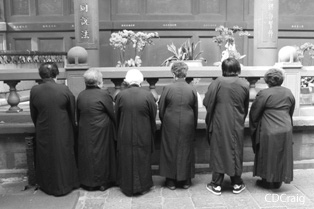 The members of the expedition will engage in exploring the sights, smells, and sounds of Taiwan by walking through night markets full of diverse offerings.  Members will take in the ambience of Longshan Temple to understand differences in religion and economic status of the people who flock there to worship their deities.  Ms. Huang and I will be taking them to visit her hometown, Hsinchu, to visit Huang Mama (Ms. Huang's mother), her sisters, niece, and nephews.  There Huang Mama and Ms. Huang's sisters will prepare a special home cooked Taiwanese dinner for the team and hold conversations in a challenging environment because of the language barrier.  That experience is two-fold.  It allows Ms. Huang's mother, sisters, niece, and nephews to learn about the American culture.  We plan to take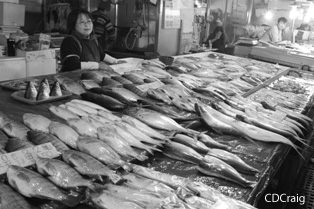 a short cruise at the mouth of the Tamsui River so that students can experience the coastal environment.  Another excursion will be to Keelung, the port city of Taiwan, and visit unique geologic features of the Northeastern coast.  Additional places we have planned include the Taipei Zoo, a performance at a Chinese Opera, Japanese owned department stores to understand how different they are from the malls in the United States, and the unique experience of walking through a fish market in Hsinchu.  Ms. Huang and I want this to be a true experience in cultural immersion and have limited the number of museums we visit to zero.  In addition, team members will pair up and develop one-day excursions through research.  This allows the students to customize their experience and learn more about Taiwan through their own eyes.
Long-Distance Participation
Starting May 16th through June 2nd, expedition members will post daily diaries and photos of their experience for all to see and learn. I encourage family and friends to interact through the Tempestas et Caelum Films Facebook page so that the experience is not only for individuals of the team but expanded to those remaining in the United States. You can find us at http://facebook.com/tempestasfilms


Expedition Taiwan :: An Amazing Family
Nathan N. Page
Nathan Page is a broadcast journalism major at Eastern Illinois University.  Nate is a talented sports anchor for WEIUs EMMY award winning student news program, "NewsWatch."  He is also an avid "Ultimate Frisbee" player for "Alley Cats," based in Indianapolis, Indiana, and plays with the "Ultimate" team at Eastern Illinois University.  Mr. Page is an extremely talented videographer who truly knows the art of capturing a scene on film.  His ability to merge the motion of a moment in nature with that of music is stellar.  Like Aric, Nate has helped me through some difficult moments over the past year which expresses his commitment to friendship and leadership.  Although he and I have had moments when we strongly disagreed on various things ranging from the style of filming to life in general, we both have embraced each other's opinions that strengthen our friendship.  Furthermore, we both have learned quite a good deal from each other that puts us both at a higher level of thinking and friendship.  Mr. Page's talent, leadership, professionalism, compassion, and devotion to his art and others has earned himself the title of "Regent," meaning, that he acts as an executive in TCPFilms, making decisions about personnel and projects.  Nate is an individual that possesses a special talent that we should watch for throughout his future career!
Aric Ascot Pelafas
Aric Ascot Pelafas is a kinesiology major working toward a teaching degree in physical education at Eastern Illinois University.  I met Mr. Pelafas while he was taking my Weather & Climate course.  In the beginning, Aric was quiet and reserved.  During our expedition to the southwest United States, he opened up to reveal a personality that is addictive to everyone!  Over the last year, he has helped me through some personal moments that demonstrate his devotion to friends and family.  While on various trips for our continuing research for the documentary film, "Expedition Endurance," Aric has been erroneously identified as my "son."  What an honor for me!  This did not happen once but four different times.  One particular time was when he, Nate, and I were in Yosemite National Park.  I asked an individual if he would take a photograph of the three of us overlooking Vernal Falls.  The man asked, "Are these your boys?"  What a moment to remember!  The humor continues as we continue to work with each other on various projects.  Mr. Pelafas has also worked with me on the Illinois Principal's Association's project, "Classroom Voices."  He has a special talent for capturing, on film, the essence of a scene.  He is also a talented artist!
Alyssa Taylor
Alyssa Taylor is an undergraduate geography major working toward a minor in broadcast meteorology. Alyssa has two lovely daughters for which the oldest has visited my classroom to experience a unique lecture!  Ms. Taylor enrolled in my broadcast meteorology practicum to seek a new career path and has shown a great deal of talent, although she would not admit it, for broadcasting.  Her personal drive and dedication to understanding the art and science of forecasting is evident in the classroom and in her air-checks.  I commend her ability to balance both classes and raising a family.  It is not easy to do both at the same time!  Ms. Taylor was invited to participate in Expedition Taiwan in the hopes that she will one day provide a similar opportunity for her daughters as well as experience the world for herself!
Brian Hartman
Brian Hartman is a double major in geography and journalism at Eastern Illinois University.  Mr. Hartman is a talented broadcast meteorologist-in-training and works in WEIUs EMMY award winning student news program, "NewsWatch."  There, he is a SkyWatch Local Forecaster and broadcasts for the "NightCap" version of "NewsWatch."  He is a talented student that understands the science of weather and is also a talented and occasional writer for the Daily Eastern News, a student produced campus paper.  Mr. Hartman is a witty individual that provides a bit of comic relief for the TCPFilms Family and those around him.  His humor gets me through the toughest times!  Always knowing when we are under the weather, so to speak, he simply cuts through the moment with a witty statement, which always makes us laugh.  In addition, he is a talented encyclopedia of music!  If you give him a word, he will sing a song that contains that word without hesitation!  It is a challenge to see if he gets stumped, which somehow never happens!
Scott Wilkinson
Scott Wilkinson is a graduate student in the Technology program at Eastern Illinois University.  I met Scott while working with the Center for Academic Technology Support Multimedia Services (CATS).  Mr. Wilkinson is a fine young man with great potential in the field of multimedia arts.  While employed at CATS he has worked extensively on various projects across campus, manages the services for the multimedia division, and is currently working with me on a major grant through the Illinois Principal's Association, entitled, "Classroom Voices."  Mr. Wilkinson also works with me on our Tempestas et Caelum Arts productions that films and produces concerts for broadcast featuring the Eastern Symphony Orchestra, Eastern Wind Symphony, and various other music ensembles in the Department of Music.  Scott is also a musician himself, playing trumpet for many of the ensembles here at EIU.  In fact, Mr. Wilkinson's first degree is in Music Education.  Through the many projects, he has worked with me and other members in the TCPFilms Family, his talent for filming and editing has earned him a place in TCPFilms.  He is a gem worth following in the future!

Expedition Leader/Director/Sponsor: Cameron Douglas Craig
Executive Producers: Cameron Douglas Craig and Pei-Hua Huang
ETW Cultural Experience is a production of TCPFilms and sponsored by Cameron Douglas Craig and, in part, by Pei-Hua Huang.
Further Information
Cameron Craig, cdcraig@etcpfilms.com